CLO is an orchestra of around 70 amateur and semi-professional musicians who meet in Henley Community Centre, near Ipswich, every Tuesday morning during school term times. We perform concerts of 'light classical' and popular music in aid of charities. We rehearse on Tuesday mornings, term-time 100-1200 at Henley Community Centre. Our String Orchestra meets fortnightly after the orchestra rehearsal 1230-1400.
Our conductor is Vince Taber. Our leader is Cecilia Metherell.
If you are interested in joining us, please visit our membership page.
Current Vacancies – We have vacancies for trombonists, violists, double bassists and cellists.
Forthcoming Concerts
Saturday November 18 2023, 7.30 pm at St Michael's Church, Martlesham Heath, IP5 3PL
In aid of Citizens' Advice Ipswich. Guest soloist Ellen Hall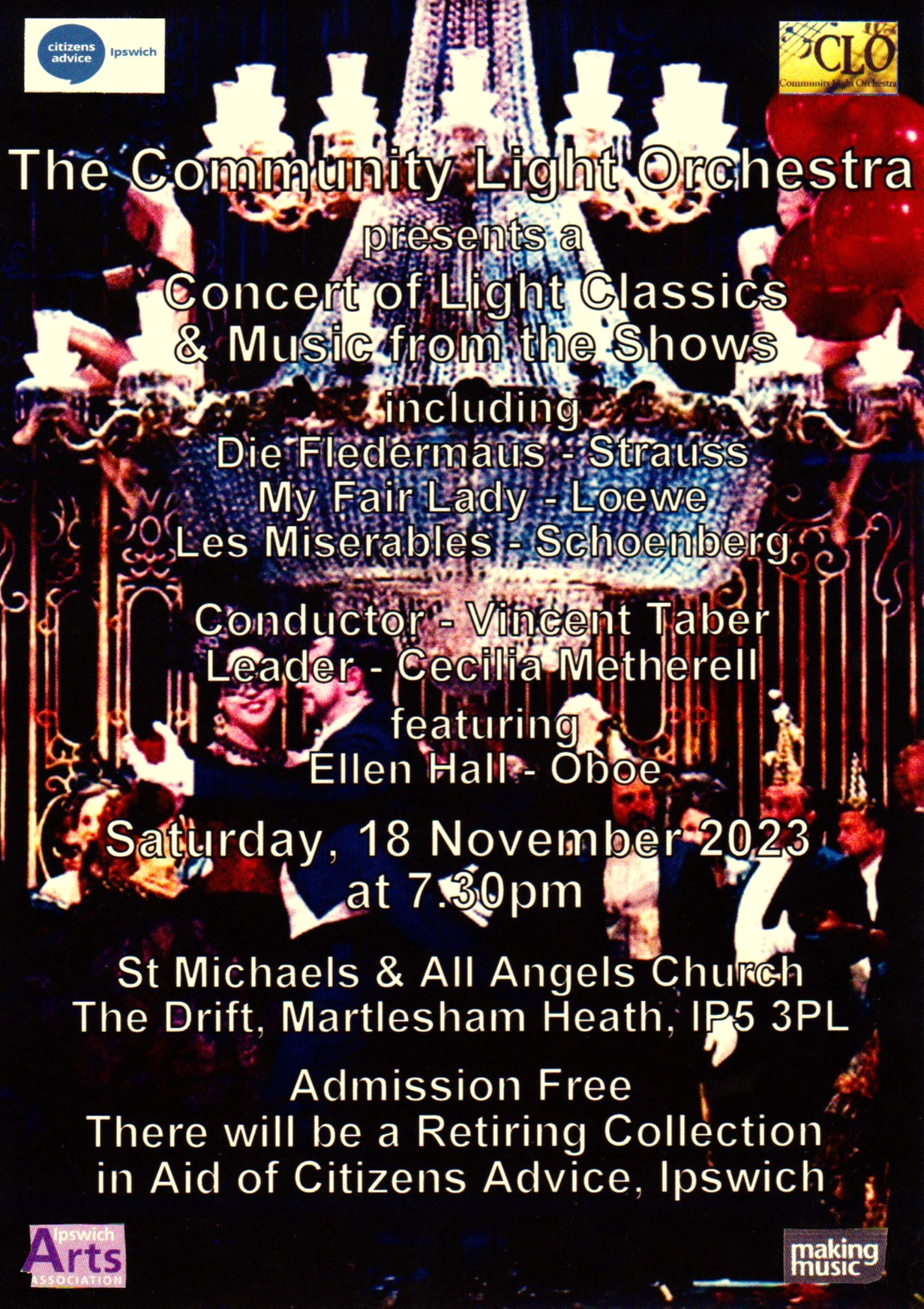 Ellen Hall
Ellen has enjoyed being a member of the Suffolk Youth Orchestra since 2021, participating in tours of Germany and Spain as well as performances at Snape Maltings Concert Hall. She passed her grade 8 oboe exam with distinction in 2022, aged 15. Ellen has also played with the Ipswich Symphony Orchestra and the Ipswich Trianon Orchestra. She recently reached the semi final of the Pro Corda National Chamber Music Festival, playing viola as part of the Woodbridge School 'Joie de Vivre' quartet. Ellen has previously been taught oboe by Melanie Tricker BMus (Hons) DipRCM and is excited to begin studying with Kim Haan in September when she starts Sixth Form at Ipswich School.
Sunday December 10th at 4.30pm, CLO String Orchestra and Nota Bene Chamber Choir at St. Michael's Church, Martlesham Heath
In aid of Suffolk Wildlife Trust
Saturday May 18th 2024 at 7.30pm at The Salvation Army – Ipswich Citadel
Would you like to book us? Please visit our Bookings page. Our January 2022 in aid of East Anglia's Children's Hospices raised over £600.
Guest Performers at our Concerts
At most of our concerts we invite a soloist, a choir or instrumental ensemble to perform some items. We post details once they have been booked.
Sadly missed former directors
We mourn the recent loss of two former conductors, Roger Jones and Barry Salmon.